The Boom in E-commerce
The development of civilization and the growth of trade have gone together throughout the millennia, from the ancient routes of the caravan trail, to the 19th century's steam powered railways crisscrossing Europe and Asia to the modern ship and airline routes joining the different corners of the world together. Today, we are living through a new age of civilization. Technology is changing every corner of our lives, in ways no one yet fully understands. E-commerce is revolutionizing the shopping experience, and more importantly, the way the supply chain is structured and organised. After fits and starts, online shopping has finally reached the stage where warehouse or infrastructure is developed to the point where it has become the default for many.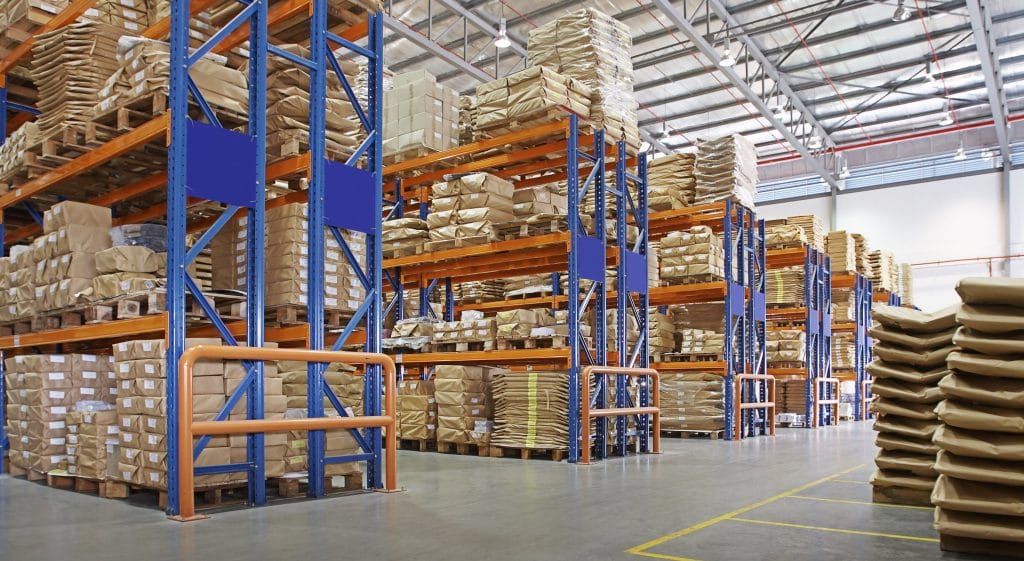 Why is this happening? It's not just because of the internet, though that is a critical factor. No matter how well designed the front end is, whether you are shopping on Souq.com, Amazon or some local sites, what underlies the shift to e-commerce by consumers is that secure, easy to use payment methods have evolved and the order management can be achieved efficiently and cost effectively. Consumers can conveniently fulfill their needs and shop for any merchandise locally or internationally.
The nodes of this new living commercial system are the warehouses and distribution centers (DC), where goods arrive and then are shipped out to customers. The new warehouse design is the cornerstone of this new digitized e-commerce system. Warehouses are no longer just locations for storing inventory, taken for granted and neglected in terms of investment and upkeep. The warehousing operation is essential for the success or failure of the modern supply chain.
Technological innovation in warehouse design means the old reliance on manual labor and paperwork, is giving way to new methods of tracking, organising and managing, including Automated Control Systems (ACS) and Warehouse Management Systems (WMS). The focus is on increasing efficiency at all stages, from the use of space, to labor, automation and streamlining process to improve efficiency and reduce costs.
E-commerce Take-off in the UAE
The UAE with some of the highest smartphone (78%) and internet (91.9%) penetration rates in the world, coupled with high income rates and a young demographic, provides exactly the kind of environment where e-commerce can flourish. The UAE e-commerce industry is expected to hit $10 Billion in 2018, compared to $2.5 Billion in 2014, a growth of 400% over the last 4 years.
Despite all the factors, contributing to the anticipated growth of e-commerce, its' worth noting that UAE e-commerce rates are less developed than in similar areas in the world, because consumers have typically been reluctant to purchase goods online using credit or debit cards. A prevailing Mall Culture and preference for cash transactions have meant that in the past, online retail growth was constrained. All that is set to change in a big way. Research indicates that online sales in the Middle East represent only 2% of overall retail sales, compared to more than 15% in more developed markets. If this points to anything, it is to the huge opportunity waiting for anyone investing in ecommerce now. A recent article in the National stated that: "The (current) low penetration of e-commerce is an opportunity waiting to be grabbed."
The local e-commerce industry is rapidly evolving to keep up with the demand. Last year, Emaar Properties Chairman, Mohamed Alabbar launched Noon, a $1 billion enterprise offering 20 million items for sale in the UAE and KSA. Also, Amazon finalised its acquisition of Souq, the region's largest e-commerce concern for $580 million. Dubai's CommerCity, a $735m joint venture between Dubai Airport Free Zone Authority (DAFZA) and Wasl Asset Management Group to develop the first dedicated e-commerce free zone is expected to give an even bigger boost to e-commerce. The Umm Ramool area, where the new e-commerce zone is located has witnessed a 120% increase in interest according to data from Propertyfinder Group.
Traditional retailers are also racing to develop online offerings to be able to keep up with the competition. For example, Lulu Hypermarket debuted Luluwebstore, which allows their patrons to avail their online delivery in Abu Dhabi; Sharaf DG, Virgin Megastore and Ace Hardware overhauled their e-commerce offerings in recent months. Other retailers are trying to compete in different ways, to include Majid Al Futtaim (MAF), the conglomerate behind Mall of the Emirates and operator of Carrefour stores, invested in Dubai-based delivery app Fetchr. A new service will allow Mall of the Emirates shoppers to leave their purchases at the mall and have them delivered where they wish.
Currently, nearly 8 out of 9.4 million people in the UAE are online consumers. That is a huge business opportunity, knowing that 60% of these consumers focus their shopping on other countries, mostly USA, UK and India. This translates into an enormous opportunity for locally based firms to capture their attention. It also means that international players have an incentive to establish fulfillment centers in the region to service this active and growing commercial segment.
Why Warehouses & Distribution Centers are Essential to E-commerce
A well-designed and well-planned warehouse or distribution centre is the important factor for any e-commerce business. Getting a facility that operates at peak efficiently, uses space and energy effectively, controls costs and manages workflow effortlessly doesn't just happen by chance. It needs careful preparation and planning. E-commerce means that customers have more product choices and that their expectations of prompt and secure delivery are increasing day by day.
Warehouse facilities are the most critical elements in the supply chain. We cannot stress this enough. Whether you have an existing facility that requires an upgrade to match e-commerce demand, or are planning a new structure, you need to undertake a careful and detailed planning process. For your business to succeed, you do not only need to understand your value proposition, your customers and your product pricing, but you also need to understand that underpinning e-commerce is the sourcing and delivery of goods, accurately, safely, cost-effectively and fast.
E-commerce Warehouse Design Trends: Best (of the Old & the New Practices)
E-commerce is forcing businesses to up their game and to consider not only how to make their existing facilities more efficient, but to imagine what the warehouse of the (near) future is going to look like. The key drivers of this transformation are:
Changing consumer expectations particularly the desire for a more seamless omni-channel experience
Changing patterns of consumer demand, and new processes and technologies used to meet this demand
Competitive pressures driving the creation of shorter customer order to delivery cycles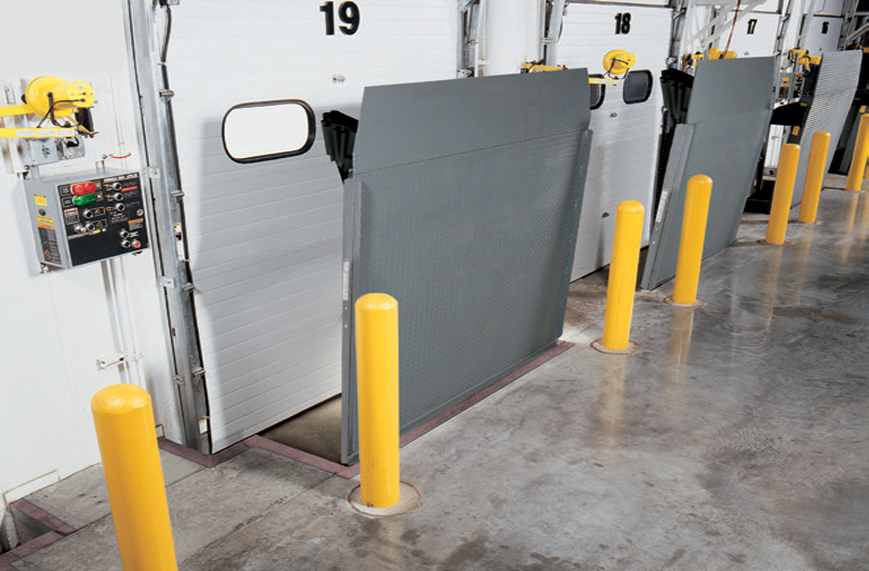 The top trends that analysts and industry professionals are seeing in warehouse design involve the improvement and rationalization of current practices and processes, such as improving loading dock designs and space utilization as well as the implementation of the most advanced digital technologies like the internet of things and Big Data. Here are some of the top trends impacting supply chain management, and warehouse and distribution center design:
Omni-Channel Optimization
As warehouses and distribution centers are changing, more and more facilities are moving towards "Omni-Channel Order Fulfillment", which can be explained as using the same facility to fulfill orders from multiple channels. Optimising processes for the Omni-Channel means that the batch picking processes need to be used, because they allow more individual orders to be picked as well as cutting down on wasted travel time, which increases productivity.
Warehouse Automation Solutions
Many enterprises are investing in automated systems to replace menial tasks performed by humans with robotics and automated systems to increase safety and speed. Many analysts anticipate that increasing use of warehouse technologies like AI and blockchain will further revolutionize the warehouse. Alibaba, the China-based e-commerce giant, uses over 100 AGVs (automated guided vehicles) at its Huiyang warehouse, which occupies approximately 3,000 square meters. The robots to pick and move goods, transporting them to human workers who then pack and distribute the orders. The robots perform around 70% of the work in the warehouse, receiving their orders through WiFi and using laser sensors to maneuver and to avoid collisions. Each robot is self-charging and can carry up to 600 kg of goods. According to Alibaba, they have increased the facility's output three-fold.
Warehouse Digitalization
Experts are anticipating that warehouses will be the arena for the use of a multiplicity of cutting-edge digital technologies including:
Internet of Things (IoT): This connects billions of items to the internet, enabling real-time data collection, tracking and analysis of items to and from the warehouse facility. Gartner Group projects that the number of devices connected to IoT will increase 30% by 2020. This surge in connected devices will revolutionise the supply chain.
Big Data: Data collected from billions of nodes requires processing and analysis. Big Data will be the next digital technology expected to move into the warehouse. Big Data will enable companies to anticipate and plan for changing customer behavior and to adjust their warehouse operations accordingly.
Mobile Devices and Wearables: Some analysts expect the increasing use of wearables and mobile devices will help warehouse workers to become more efficient. These devices will provide even more valuable information on productivity, giving warehouse operators insight on how to improve processes, and safety. Mobile devices such as the handheld barcode and RFID readers have been commonly used in warehouses for the last decade. New types of devices include built-in cameras, RFID capabilities, voice-enabled functionalities and smart label printers.
Cloud Technology: Warehouse management systems will increasingly move towards cloud-based IT services and solutions as they provide the scalability and flexibility for small, medium and large-scale operations.
Voice-directed warehousing: Voice technology like that of Google Assistant, Amazon Alexa or Apple Siri have as yet untapped applications in organising warehouse workflow. The current uses involve helping workers to look up stock keeping units quickly and accurately and cutting down on paperwork. A recent report pointed out that the use of voice technology in company warehouses are more likely to achieve 99% pick accuracy than non-voice users." In the future, with the integration of AI, there could be even more room for voice technologies to transform human workflow in the warehouse.
Material & Product Handling Trends:
Standardization – Product handling containers are becoming more standardized to increase efficiency, with many operators preferring the standard EURO and ISO sizes. Products like Euro containers and Pallet Boxes will become ever more popular.
Up-sizing – Increasing the level of efficiencies and cost savings means that distributors and retailers will try to send more goods in bulk. This will give way to even larger containers and larger pallets sizes.
Containers or Pallets – Warehouse managers are seeking more opportunities to save costs, which includes selecting container materials and supplies that can be reused multiple times. For many operators, this will mean shifting from wood to plastic. It also means exploring the use of different container and pack sizes to optimize picking and distribution.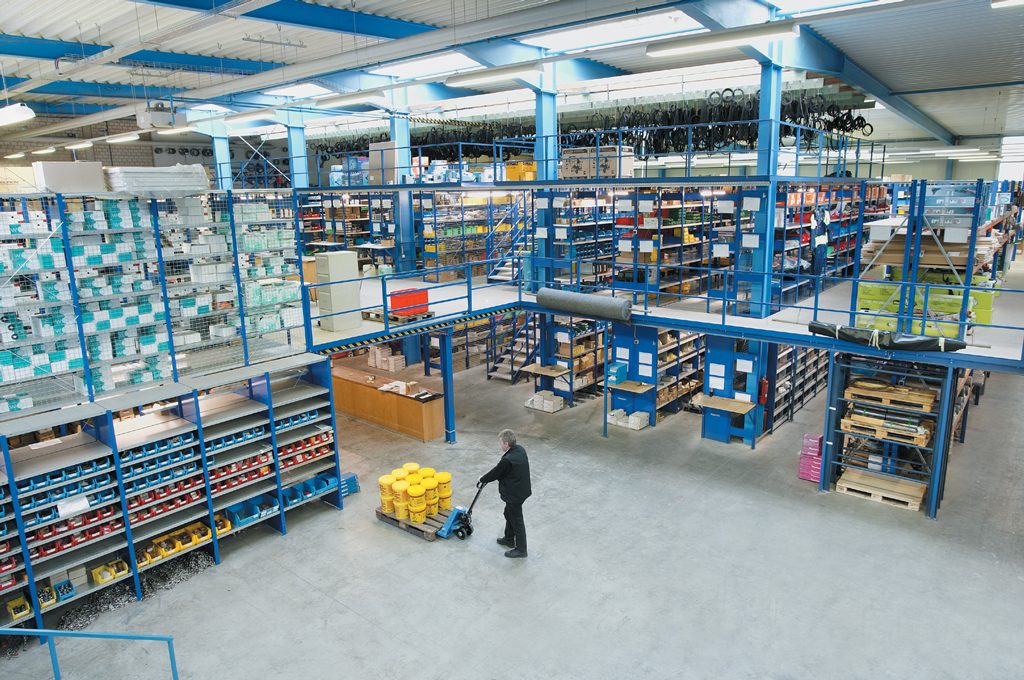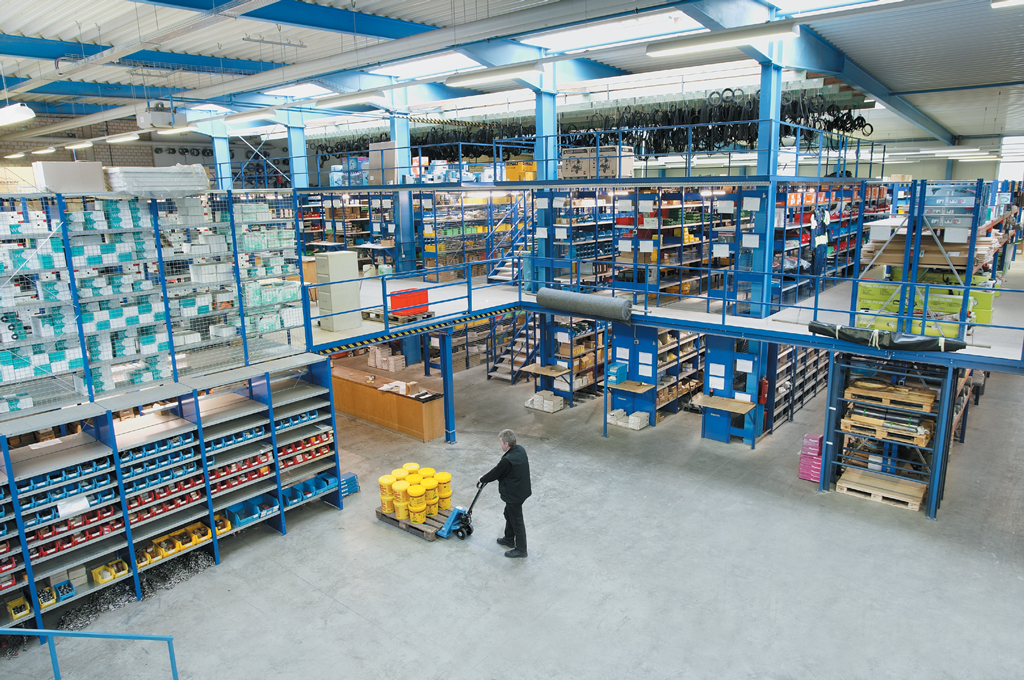 Racking Design – Efficient space utilization is a priority in any warehouse, but the complex and changing needs of e-commerce also mean that modularity and flexibility need to be embedded in the design solution. Multi-tier racking or mezzanines make the most efficient use of the available height space for non-palletized storage. The benefit of this mode of design is that they can be easily modified, extended or moved as per your business requirement.
What you Need to do for your E-commerce Warehouse Design Upgrade?
The first step is to decide what your needs are. There are four basic scenarios with different implications you need to consider.
Activity or Storage Requirements

Space Description

Solutions or Tools

Low Activity, Low Storage

Smaller, simpler warehouse operation
Low need for automation or sophisticated storage and picking mediums or devices

Floor storage
Stacked pallets
Simple pallet racks
Conventional shelving
Manual Handling

Low Activity, High Storage

Medium-sized warehouse operation

High bay, multi-level, high density storage
Random location strategy
Combination of manual and semi-manual picking

High Activity, Low Storage

Compressed forward picking area – simple overstock storage

Automation and automated systems to manage picking and material handling

High Activity, High Storage

Large distribution centre with high intensity operations

More developed automated order picking systems
Automated material handling and sorting
High Density storage
Once you've identified your requirements, you also need to ask yourself these questions to develop an efficient and productive warehousing solutions:
How will the products flow into, within and out of the facility?
Does the forward pick area or modules have sufficient inventory to avoid the need for frequent replenish replenishment?
Is the storage system or area large enough to house the inventory and any safety stock?
What type of conveying and sortation equipment is needed?
What are the staffing needs?
How flexible is the facility in adapting to changing business needs?
What is your operating budget for staffing, maintenance and utilities?
What kind of technologies will you be using in your operation including automated materials handling?
7 Steps to Getting the Best Warehousing Solutions You Need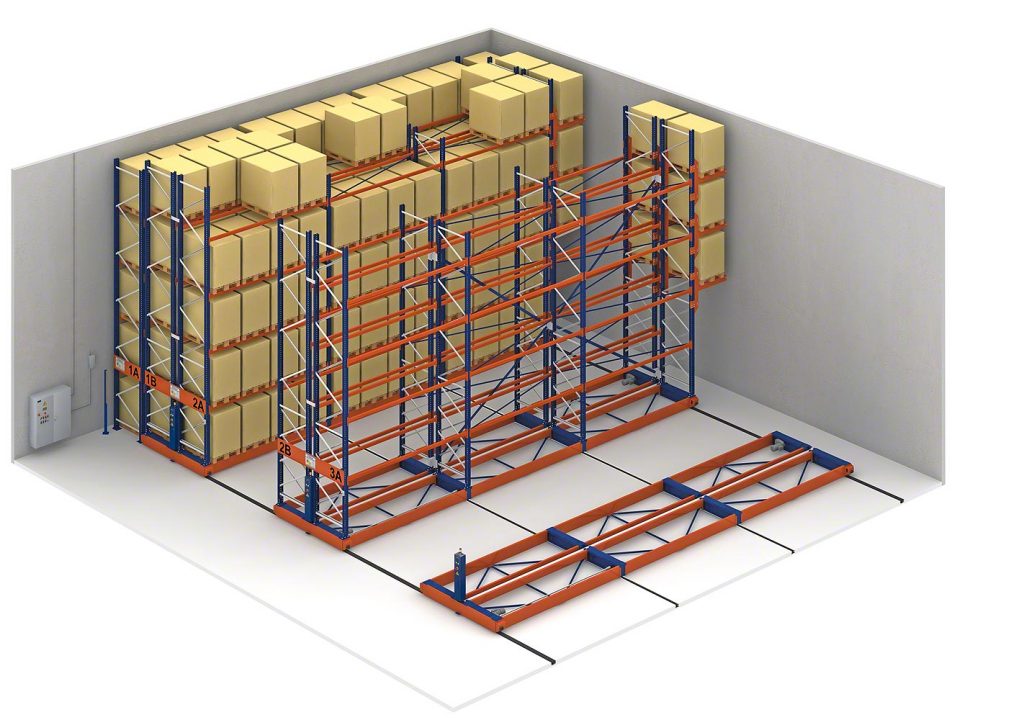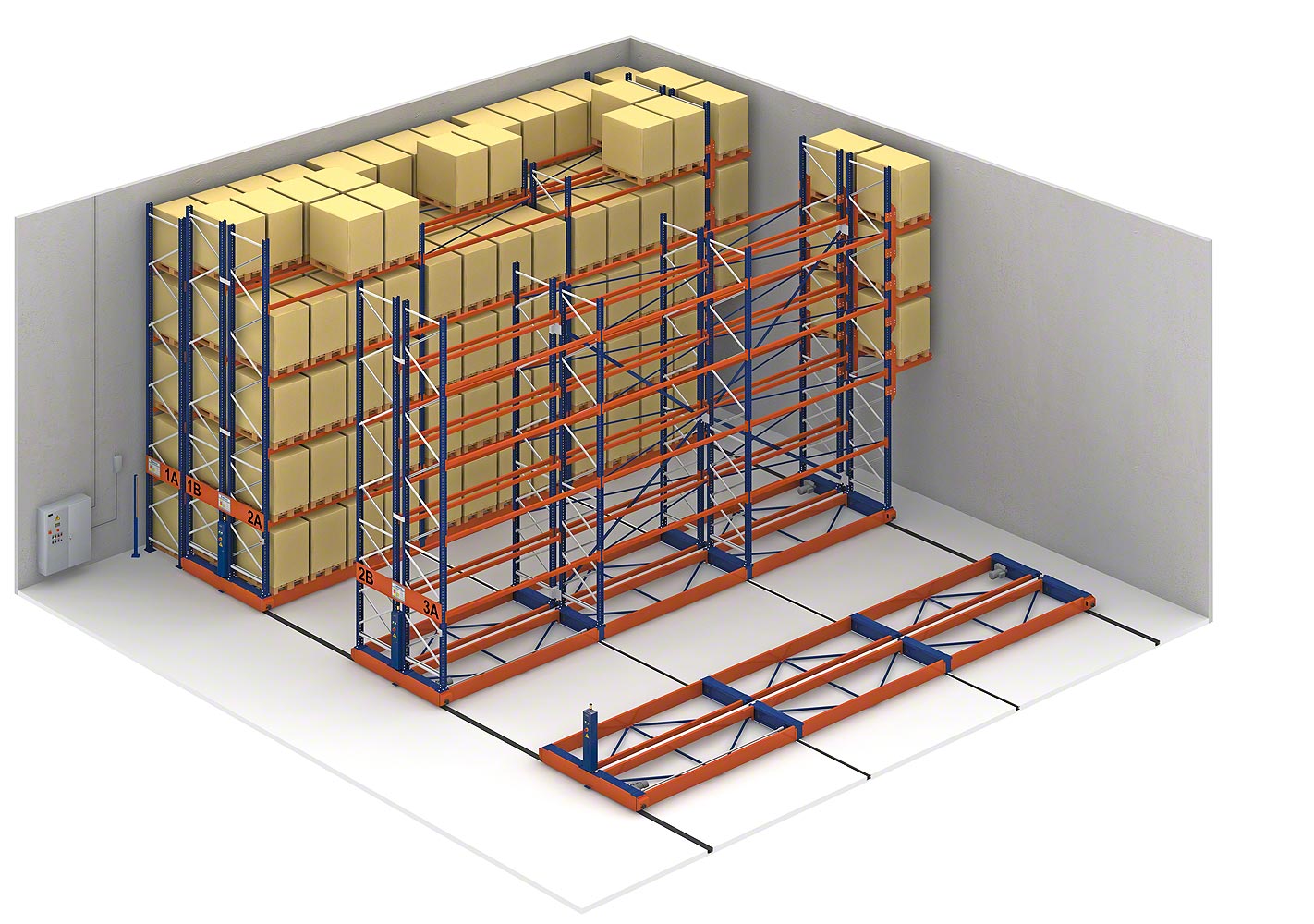 Deciding which proposed scenario best reflects your needs depends on your business plans and future projections. Because the needs of e-commerce are becoming more complicated by the day, don't try to undertake the needed work on your own. With the increasingly complex demands of warehouse operation and management, you need to consult specialists with a good track record to give you the competitive advantage you need to succeed.
1

Understand & Identify Your Needs

What type of facility or resources do you need?

Inventory projections, storage and movement flows.
Workflow design – Picking & Storage. Large storage areas increase travel distances, reducing picking efficiency. Efficient picking pushes towards smaller amounts of product stored in dedicated locations, positioned near each other, cutting down on storage efficiency

2

Define your Goals and Objectives for the Facility

Determine the goals you want to achieve through your facility. Do you aim to focus on reducing costs, improving picking productivity, maximizing space utilization rates, or increasing layout flexibility to account for expansion or compression as the business develops?

3

Identify a Warehouse Design Specialist & Prepare Short list of Prospect Warehouse Partners

Carry out an Internet research on local or international firms focused on Warehouse design.
Consult industry websites and news sources, as well as business acquaintances to get referrals.
Develop a list of companies or warehouse consultants you think can provide what you need.

4

Short list & Interview Prospects

Prepare a list of questions for the consultants to answer.
Contact and interview them.
Ask to visit previous facilities they have worked on.
Meet and discuss your ideas and ask them what approach or strategies they have for design and implementation.

5

Request RFP

Request that your candidates prepare a proposal for the scope of work along with a preliminary budget.
This will demonstrate their experience and understanding of your needs and their ability to provide innovative warehousing solutions.

6

Rank & Score Prospects

Select single consultant or company based on how aligned their approach is to your needs, and how their budget accurately reflects the work required, and how the proposed project time-frame fits into your schedule.
Ensure that you pick a reputable selected firm to work with that has the experience and certifications.

7

Hire Warehouse Consultant & Sign Contract & Approve Project Plan

Ask the consultant to prepare a Project Plan for the warehouse design including:

Resources required
Timeline & milestones
Steps, services, products and other deliverables
Budget with breakdowns
Warehouse Design Consultant in the UAE
Why LOC8?
LOC8 understands that your warehouse is a vital part of your e-commerce business. With over 25 years of experience, we can provide the best warehousing design and solutions, as well as on-going support to ensure that your needs are fully met. Using the most innovative and modern techniques and technologies available, you can be sure that you'll be receiving the best services from our experts.
Products
Loading Dock Solutions
HVLS Industrial Fans
Shelving Solutions
Mobile Shelving
Racking Solutions
Workbenches
Mezzanine Floor
Fast Action Doors
Conveyors & Sortation Solutions
Services
Planned Maintenance
AutoCAD and 3D layout
HVLS Assessment
Warehouse Design Consultancy
WHAT CAN LOC8 DO FOR YOU?

Using international best practices to make sure that your e-commerce warehouse or facility meets and exceeds global standards, Loc8 can:
Provide design and planning consultation, advice and support to transform your vision into reality
Offer state of the art CAD services
Ensure that your loading dock achieves the best results
Develop storage solutions that meet all your current and future needs: racking, multi tiers, conveyors through to mezzanines, fork trucks and shelving
Source the best products and services from anywhere in the world, using a wide geographical network, to meet the clients' needs at the highest quality and most competitive prices
Ensure that all products function at peak condition through regular maintenance
Contact LOC8 for a free consultation today.