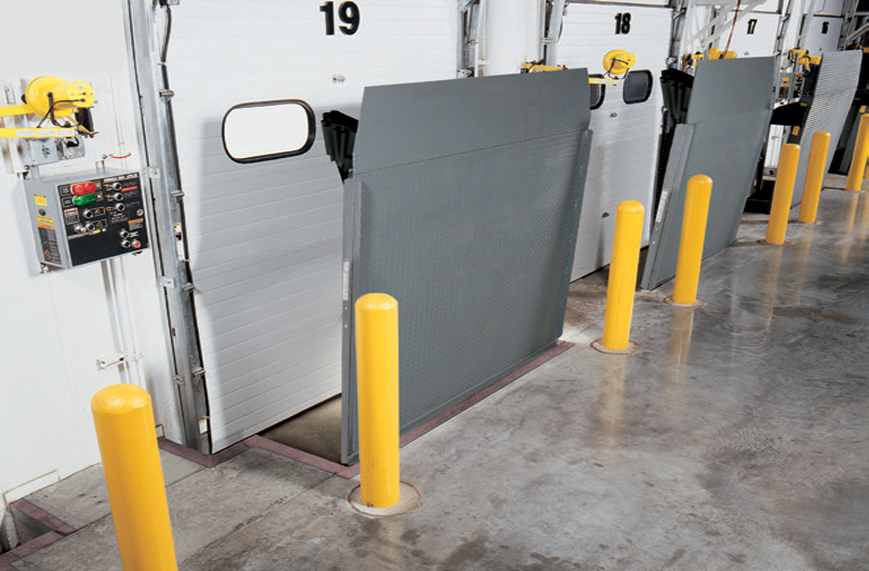 With the current technological advancements in the warehousing industry, the essence of a dock leveler is undebatable. This is because it serves as a crucial help in loading and unloading of trucks and trailers, and most importantly, the most suitable and ideal dock leveler reduces accidents that are prone in the docks. But first, what is a dock leveler? In simple terms, dock levelers are permanent fixtures at the door of a dock, and comprises of a metal plate called a lip, which functions by being lowered onto the body of a truck or trailer from a stowed position. Dock levelers serve different functions and may be hinged or telescopic. Likewise, they may also be operated manually or automatically.
Why invest in dock levelers?
Unlike dock plates, dock boards and truck lifts, dock levelers are more functional because of their features.
They are strong and can carry heavy loads.
They are more suitable for motorized fork lifts and master conveyors.
Safety is guaranteed in the warehouse because the safety regulations demand that all dock levelers have fixed and restricted ranges that can only be installed in a standardized dock design and height.
Dock levelers allow smooth and easy transition between docks and trailers. This prevents the numerous warehouse accidents that could cause injury and damage.
They are specially designed to absorb shocks and bumps in the daily loading and unloading process in the dock.
They will improve the effectiveness and efficiency of your loading and unloading operations
It is durable and has low future maintenance cost due to the material it is made of.
There are dock leveler suppliers in Dubai such as LOC8 which can provide several types of dock levelers specifically designed to suit your immediate needs. These include hydraulic dock levelers and mechanical dock levelers with a wide range of functional accessories like the Global Wheel-Lok Restraints, and specialized cold store suited systems. Each type of dock leveler is uniquely made to heighten productivity, lower cost, and ease operations. More of it is discussed below.
Types of Dock Levelers in Dubai and the UAE
Hydraulic Dock Levelers
Our Rite-Hite Hydraulic Dock Levelers enable smooth transition on the loading and unloading processes. Its pocket-friendly and low maintenance cost ensures a stress-free ownership. Its careful design is meant to reduce warehouse and forklift injuries and maximise on productivity. Some of the products include:
Stepped Dock Levelers
Our stepped design allows for container doors to be safely and securely opened within the warehouse thus speeding up the parking, improving security and in cold store environments allowing the best dock to container seal on the market.
RHH-500 High Capacity Hydraulic Dock Levelers
This dock leveler guarantees safety when handling heavy loads due to its 'high capacity' and offers top notch performance in the dock.
Hydraulic dock levelers are ergonomically designed. They enable easy transition of loads from the dock to trailer or truck for effective forklift operation.
 Vertical Strong Hydraulic Dock Levelers
This Rite-Hite RHV Dock Leveler controls environment and security in the dock.
Mechanical Dock Levelers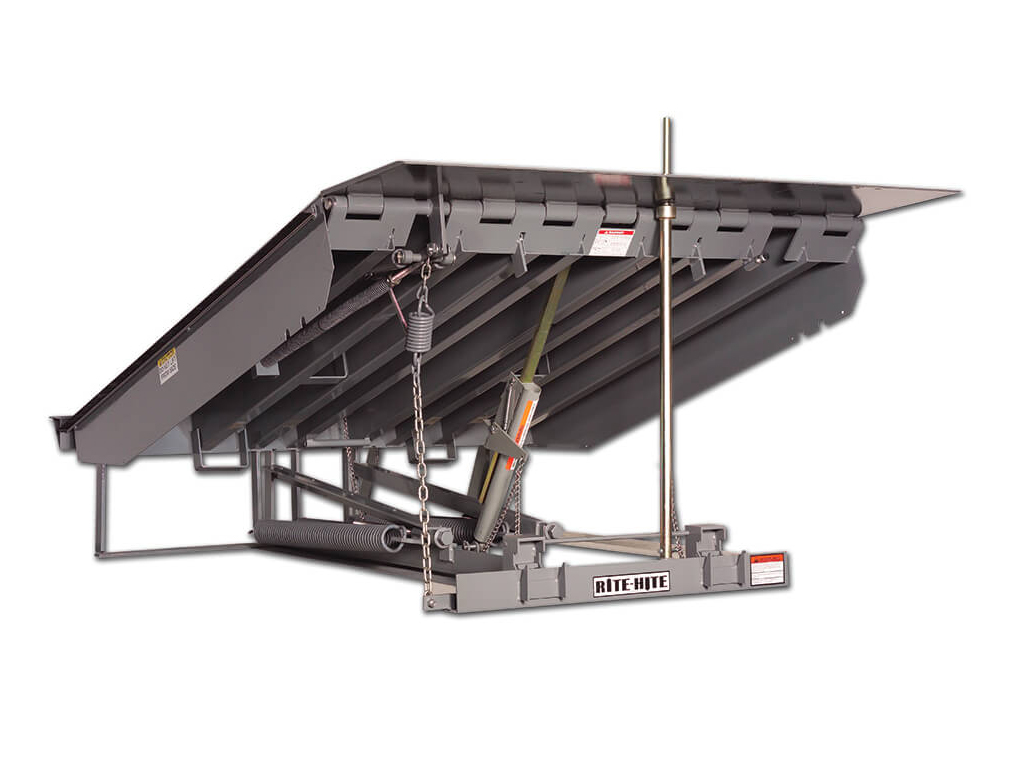 Mechanical dock levelers offer the best value in terms of a reliable, economical solution in the dock industry applications. Its features add to its ability to offer functionality when being used. Here are reasons to get a mechanical dock leveler:
Its smooth transition constant-radius rear hinge and its optimised lip offer an easy transition from the floor to the truck for efficient forklift operation.
Its rugged ramp control system, 9-tooth pawl and a ratchet bar system offers reliability.
It has a unique counter-balance system with its unique consistent walk down.
It has an advanced cylindrical air tower that has low pressure in its lifting system offering resistance.
Its yieldable lip prevents potential accidents and damages from backing trucks and trailers.
It has a seal below and around the levelers called PitMaster™ and helps prevent energy loss, improves cleanliness and increases comfort of employees using it.
Global Wheel-Lok Restraints
The Global Wheel -Lok Vehicle Restraint system is designed to automatically join a truck or trailer rear tire together with a barrier to provide safety operations on all vehicle types. The GWL can safely secure a trailer with no obstructions and this maximises health and safety. Some other versions of container levelers include:
This leveler is designed to improve safety and increase productivity with full access to all loads.
Its Z-shaped deck reduces slope of the forklift surface while it evens out the tires and stops trucks or trailers from moving away.
The wheel riser levelers offer a cost-effective solution for maximum dock loading. It boosts productivity and you get to incur no cost in constructing costly pits.
It has a unique bridge design that is tailored to offer effective operations regardless of the trailer axle position. This is made possible by matching the trailer bed and the dock floor, while enabling water to flow underneath.
With the information gathered above, you might be wondering how to go about selecting the right dock levelers for your warehouse. Let's face it, the dock is where most accidents occur leading to fatal injuries. This poses as a threat to the personnel, the warehouse equipment and the products loaded. However, if you install the right dock levelers in your warehouse you will be assured of safety, productivity, speed and even durability. So how do you go about it? We got you covered. We have outlined points to consider when identifying the best suited dock leveler for your warehouse.
What to Consider when choosing Dock Levelers
Needs
Often when determining what to consider when choosing dock levelers, we have to consider the needs that the levelers will be required to fulfill. And when pondering about needs, you have to decide what type of loads the levelers will be handling. If you will be dealing with light weight, which is approximately 20,000-40,000 pounds, you will need light fork lifts to carry your cargo. In contrast, however, if you are determined to be handling heavy loads, heavily suited dock levelers will work well. Think of hydraulic dock levelers and in the same vein determine what types of vehicles your dock will handle. If it'll be wide trailers, then choose dock levelers that will be fully functional to meet those needs.
Length and Width
The length and width of dock levelers are determined by the vehicles that operate on that warehouse. Recently, high capacity trailers have become popular with a lower bed of 6-18 inches. This is to allow moving large loads. Additionally, air ride suspensions and low profile tires are becoming the order of the day in the transport. This will often create a huge gap between the dock and the truck bed. Only long dock levelers can create a smooth transition without creating an inclined steep. The most popular length of a dock leveler is 8ft, this length is appropriate for most operations.
Safety
Your safety and that of those around you is crucial. So, when choosing the ideal dock leveler, choose one that is safe. Consider looking for dock levelers with barrier protection that can be operated automatically. Hydraulic Dock Levelers are a good fit. This ensures that the dock, which is often a dangerous zone, is safe and reliable.
Durability
Dock Levelers are meant to be durable for long but this is not always the case. In order to be on the safe side, ensure you choose dock levelers from a trusted brand. Purchase dock levelers from companies that produce durable levelers, which can last for approximately 20 years. This will save you money from frequently maintaining the dock levelers or purchasing new ones.
Easy to Operate
When choosing the right dock leveler, consider selecting the ones that are easy to operate. Operation should not only be easy for you alone but also for all the others with you in the warehouse. Hydraulic levelers are fully automated and can easily function with just a push button. There are no chains to be pulled and this suggests less injuries.
Maintenance Cost
Often when buying an equipment, we usually pay most attention to their initial price and if it will yield back a good ROI. When choosing the ideal dock leveler, you should realise that the buying cost is just a part of the game and maintaining it is inevitable. Buy an equipment that requires little maintenance, saves energy, and its spare parts can easily be accessed in case one part fails to function.
Like any production equipment, you should be prudent in how you make your decision on choosing an appropriate dock leveler that will suit your needs. Once you have acquired your dock leveler in the UAE, the next thing is to learn proper maintenance and safety measures when handling it. Statistics report that 30% of warehouse accidents occur at the dock and mostly when loading and unloading is taking place. So how do we avoid such situations from occurring? Here's how:
Tips on dock loading safety
Be alert
Keep an eye on some of the things you think may harm you in the dock, like falling dock edges or a wet and oily floor which may cause tripping. Similarly, ensure you dress appropriately when in the dock. Put on a hard hat, eye and ear protectors and know the safe zones to walk on when in the dock.
Clean Floor
A warehouse that receives a number of different people with their trucks and trailers is bound to get dirty. The vehicles' carbon monoxide, oil spillage and debris are just to name a few. If this dirt is left without being cleaned, it can cause accidents. Ensure your dock floors are cleaned at least twice a day, and be sure to keep containers and packaging bags far from the walking area.
Prevent fall
While in the dock, you should walk and not run. Also, don't push anyone and watch where you walk. In the same breath, ensure you have worn sturdy shoes that do not skid on a slippery surface.
Work Safely
When working in a dock, let only the specialised personnel control the forklift. Do not try to distract whoever is controlling the machinery. You should also ensure that the truck and trailer wheels are locked before loading them. Also, remind the drivers to turn off their vehicles to prevent release of carbon monoxide.
Load and Unload Correctly
It is often advised that you should not load goods all by yourself; this is to prevent injuries from happening. However, when you have to carry a load, practise good posture. Bend your knees and keep your back straight so that all the weight is not directed to your back.
Be safe with Dock plates
When loading your truck, double check the dock plate capacity to be sure that it can support your truck weight. Remember to slide the dock plates into position before you begin loading.
When working in a warehouse, it's important that you protect yourself and those around you from harm.
Dock Levelers Maintenance
Another crucial factor that will determine your dock leveler's durability is how you maintain them. Dock levelers, like any production equipment, need to be thoroughly maintained for maximum productivity. So how do you keep your equipment functional throughout? The following simple tips can be helpful.
Lubricating
Any metal that is constantly in motion needs lubricants to prevent both wearing off and rust. Dock Levelers should be lubricated on its hinges, joints and other parts that show signs of corrosion. Consider lubricating the parts that are slow in motion and those that produce squeaky sounds. Alternatively, you should call a technician to check out anything that may cause issues in the future.
Cleanliness
Your dock levelers need to be clean in order to keep them for long. When machines and equipment are exposed to dirt, debris and spillages, they are likely to reduce their overall functionality. To curb this, always clean the warehouse and occasionally the equipment.
Test Functionality
When your equipment is under-performing, be sure to call a specialist to check its functionality. A dock leveler that is not reaching its full height and cannot be in the same level with the truck or trailer needs a specialist to check its problem. For example, hydraulic dock levelers use hydraulic fluid, and when the fluid reduces, the functionality also reduces. Ensure you call a specialist to drain the fluid, clean the levelers and replace the hydraulic fluid to allow it to function flawlessly.
Choosing the best dock leveler supplier in Dubai and all of UAE
The whole process of identifying your ideal dock levelers can be daunting, especially if you have no past experience in dock levelers. LOC8 provides dock levelers in Dubai and all across the UAE and are able to assist you in getting the perfect dock leveler for your requirements. We have a variety of dock levelers that will meet your budget and specifications. No wonder we are the leading supplier for all loading dock requirements in the UAE.
Our vast knowledge and 25 years of experience in the industry make us the ideal dock leveler supplier in Dubai. We understand your needs and promise to deliver stellar services that will surpass your expectations. Our satisfied clients are a testimony of our quality products and services.
We will work with you to bring your dream design to fruition and see to it that your warehouse is fully functional. Our specialists will offer you constructive advice that will help you make a sound decision on which type of equipment you need in your warehouse or facility. We will offer you a consultative and holistic approach to your warehousing needs which doesn't only involve dock solutions but also racking, multi tiers, conveyors, mezzanines, fork trucks and shelves, as well as warehouse maintenance and warehouse design. Contact LOC8 today for a free consultation and quote.