4 Biggest Cold Storage and Refrigerated Warehouse Trends
Cold storage and refrigerated warehouses are an integral part of supply chains with temperature control initiatives, and they are only getting bigger – literally – with cold storage space expanding at roughly 4% annually since 2013. With this growth, there are four trending paradigm shifts that facility managers should consider when making safety and efficiency upgrades to their cold room facility operations.
Automation/Robotics
Throughput speed is essential in cold storage facilities, particularly those fulfilling online orders. To maximize it, automated guided vehicles (AGVs), automated storage/retrieval systems (AS/RS) and other automated/robotic technologies are quickly becoming ubiquitous in them.
The automation trend can even be seen in loading dock equipment, such as smart controls and light communications systems like Rite-Hite's Rite-Vu Hazard Recognition System. Utilizing motion sensors, LED lights, audible/visual alarms and interlocking controls, these safeguards protect workers on foot both inside and outside the loading dock in addition to protecting forklift operators inside trailers.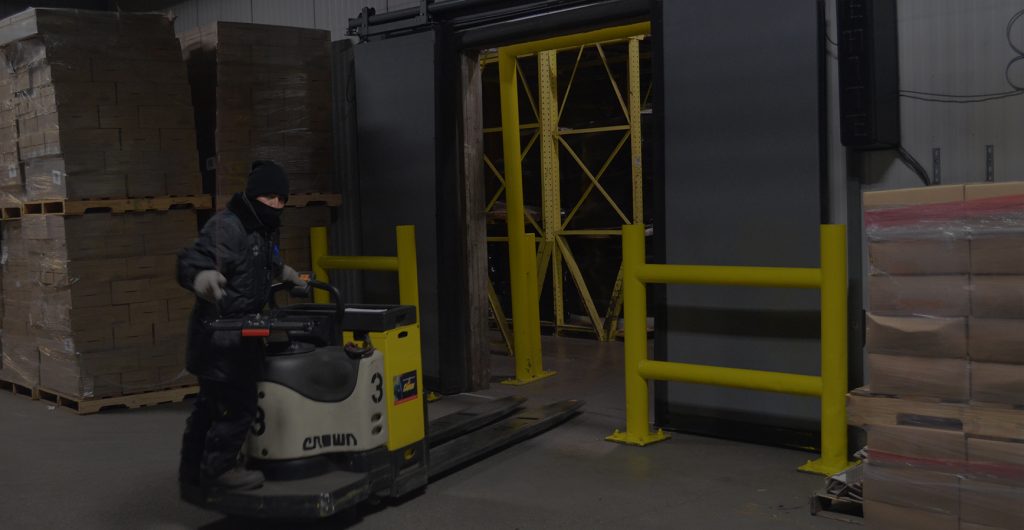 Taller Warehouses
To combat high operating costs and the need for quick delivery, many industrial cold storage facilities are being built in expensive, urban areas – forcing companies to "go vertical" with their workspace. This trend makes fall protection equipment a top safety priority.  Dual reciprocating barriers, like Rite-Hite's Gatekeeper, are a common choice for elevated workspaces, since they create a controlled access area in which the inner gate and outer gate cannot be opened at the same time. Modified versions of these mezzanine and platform barriers, like Rite-Hite's RacKeeper, are now being implemented for multi-level pick modules.
Energy Efficiency Initiatives
Energy efficiency and cold chain integrity are also key considerations for today's cold storage industry. At the loading dock, the drive-through dock design is considered the gold standard for achieving both.
The system's key component is a vertical storing leveler and recessed pit, which allows trailers to completely backup to the dock before breaking the seal and opening their doors into the facility. This design prevents energy loss, as well as potential cargo tampering or exposure to outside elements.
Cooler and freezer doors can also contribute to energy efficiency. High-speed doors like the Rite-Hite FasTrax (which operates at up to 100 inches per second) minimize air exchange between spaces as equipment and material pass through, reducing energy loss. In addition, they automatically snap back onto their tracks when impacted by forklifts.
Keeping Pace with the Market
Cold storage facility managers who understand these trending fundamental shifts in cold storage warehouse operations – and the new equipment solutions to the problems they present – can ensure that their facilities keep up with the ever-increasing demands the market places on them. We keep up-to-date on cold storage best practices, new design and technology and the latest trends in the industry.
If you'd like to receive your personalized energy and cost savings assessment, please contact the experts at Loc8 (Loc8- 800 Loc8 5628).