A Systemic Approach to Loading Dock Security
It's been stressed many times over, and it still holds very true – safety at the loading dock is an indispensable aspect of loading dock management. That said, loading dock management doesn't end at safety, because without proper security at the loading dock, you're leaving a vulnerability that can potentially disrupt the operations of the entire warehouse.
When we think of security at the warehouse, it's easy to assume we're talking about theft prevention from inside the facility and that's it. Unfortunately, it's not as simple as just locking the door, because loading dock security involves the entire loading dock process – including the trailer which is a 53 foot extension of your facility. Therefore, we recommend implementing a systematic approach to your security measures.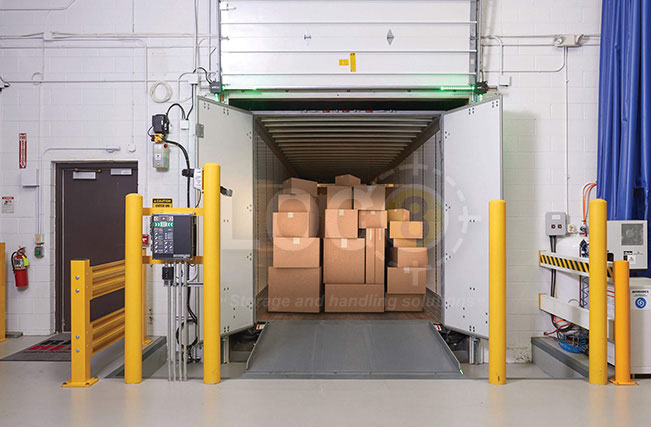 Systematic Approach
The systematic approach for loading dock security is a strategy that incorporates a multitude of areas that comprise your loading dock management and product solutions. It's set up this way to ensure that all potential vulnerabilities are addressed. Think of it as a chain. When all links are solid, and in working order, the chain works as it should. Now, if one link is broken, the entire chain is at risk. It's the same way with security at the loading dock:
Automatic Vehicle Restraints
Among the safety advantages, automatic vehicle restraints also give the bonus of added security. Dok-Lok vehicle restraints provide a physical and visual deterrent against cargo theft. When the trailer is secured to the dock with a vehicle restraint, the potential for a thief driving away with your cargo is nearly erased. And, if the controls for a Dok-Lok vehicle restraint are linked with an active building security system, that system will be notified if an engaged restraint is tampered with.
Dock Levelers
When discussing dock levelers for security purposes, Rite-Hite's RHV Vertical Storing Dock Leveler is second to none. With the ability to fold up when not in use, it minimizes the points of entry into your warehouse or industrial facility with the door closed to the pit floor. It also allows trailer doors to be opened inside the facility reducing the opportunity for pilferage and product tampering in the drive approach.
Dock Seals/Shelters
The elements aren't the only thing you need to stop from entering your loading dock door, and that's why a proper dock seal or shelter, like the Eclipse, is available to aid in loading dock security. Beyond sealing out wind, rain, dust, and bugs, this dock shelter is designed to work in vertical leveler applications, which allow trailer doors to be opened inside the warehouse, ensuring only authorized personnel have access to the cargo.
You may have noticed that this approach is similar to loading dock safety procedures, and that is spot on. Oftentimes the preventative measures put forth for safety concerns are also used for security measures. They may have different goals, but it all works as part of the same system.
If you'd like to receive your personalized energy and cost savings assessment, please contact the experts at Loc8 (Loc8- 800 Loc8 5628).