Designing the right loading dock for your operation
Summer is just around the corner. And while we all welcome the sunshine and a break from the cold and snow… are your employees ready for higher temperatures, rain and an influx of bugs and pests?
The BBC reports that 2021 won't be as extreme as 2020, thanks to the cooling effects of La Nina, but is still considered to be a much warmer season when you compare it to La Nina events from years past (2011, for example). An increase in warm weather patterns could cause a decrease in worker productivity and lead to real safety concerns.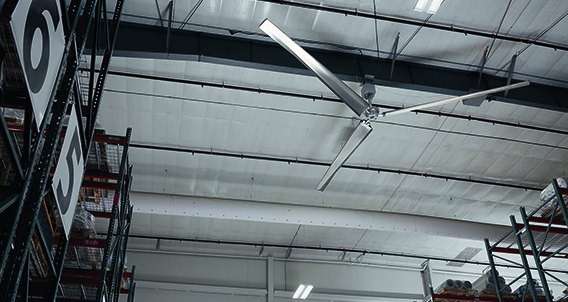 How does extreme heat impact manufacturing or warehouse teams?
It's hard to control the temperature of a large space, but it's necessary to keep the employees safe and comfortable. When we are exposed to high temperatures, our body's core temperature also rises. At best, this could lead to a loss of productivity and output, a decrease in employee retention and an increase in day-to-day errors that impact the bottom line.
At its worst, high temperatures could also impact workers' health and wellbeing. If rising temperatures are left unchecked, it doesn't matter how much water is consumed or how short the shift is — even healthy and young employees may still be at risk of heat-related hazards:
Heat Stroke
Heat Exhaustion
Rhabdomyolysis
Heat Syncope
Heat Cramps
Heat Rash
Unfortunately, heat-related illnesses are common for warehouses and manufacturing facilities. This is because large spaces can be costly to control, the job can be physically demanding and these industries are grappling with an aging workforce. Workers who have heart conditions, high blood pressure, are overweight or over 65 years old are particularly at-risk.
Tips for cooling warehouse spaces in the summer
Keep Hot Air Outside and Cool Air Inside by Sealing Trailer Gaps: Rite-Hite Dock Seals and Shelters seal the perimeter of the dock keeping out contaminants, unwanted pests, and/or hot air that can cause discomfort to employees during the warmer months.
Condition Trailer Environment to Cooler Temperature: Loading dock fans, such as the CoolMan 2800 Trailer Fan, are specifically designed for manual loading and unloading environments by providing directional air flow into a trailer.
Allow Fresh Air in for Comfort and Productivity: The BugShield Sliding or Roll Up Industrial Door is a mesh, screen door designed to block the infiltration of pests into a facility while allowing dock doors to be open for fresh air. It is available in a convenient sliding model for wider door-ways.
Install HVLS Fans: Unlike traditional ceiling fans, just one HVLS fan can cool big spaces as large as 31,000 square feet. They have been engineered to move large volumes of air very efficiently, saving energy costs and cooling workers on the ground floor.
HVLS Fans are Powerful Solutions to Large Space Cooling Problems
Air conditioning is expensive, especially in large spaces where machines are running and doors or docks are constantly opening. The most impactful way to beat the heat and keep your workers cool throughout your facility is with high-volume, low speed (HVLS) fans. Help your employees stay comfortable and productive, no matter what the season may bring.
If you'd like to receive your personalized energy and cost savings assessment, please contact the experts at Loc8 (Loc8- 800 Loc8 5628).